Meta Tags Optimization
Meta elements are tags used in HTML or XHTML documents to provide structured metadata about a Web page. They are part of a web page's head section.
The text in these tags is not displayed, but parsable and tells the browsers (or other web services) specific information about the page. Simply, it "explains" the page so a browser can understand it.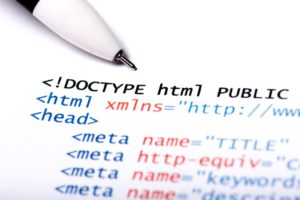 The Title Tag
Although the title tag appears in the head block of the page. Ideal Length of Title Tag is 55 to 65 characters including space. Place all important keywords in title tag
<title>Place SEO optimised Title Here</title>
The Description Meta Tag
This is what the description tag looks like. Ideal Length of Description Tag is 120 to 160 characters including space. Place all important keywords in description tag, yet it has no direct relation in ranking process, but it helps to increase CTR of website
<meta name="description" content="Demo of description here ">
Meta descriptions can be any length, but Google generally truncates snippets ~300 characters (this limit increased in December 2017).
Google confirmed they have extended the search results snippets from 160 characters all the way to a maximum of 320 characters long.
Even though the snippets can be longer, the "fundamentals of writing a description tag" have not changed.
Google may or may not show 320 characters
Robots Meta Tag
The robots tag is still one of the most important tags. Not so much for the proper implementation, but the improper.
<META NAME="ROBOTS" CONTENT="NOINDEX, NOFOLLOW">
Example of meta tags where our keywords are webdesigners, seo services , seo experts , jalandhar , punjab
<title>SEO Services | Web Designers | Web Developers in Jalandhar : EPSinfotech</title>
Meta keyword is not useful
Click here to read more….
<meta name="keywords" content="Web Designers , Web Development , Seo Experts , seo services, seo in jalandhar, seo in punjab, seo company, brand seo jalandhar, online marketing jalandhar, internet google links jalandhar, seo services in jalandhar, seo experts jalandhar, best seo company jalandhar, seo company india, epsinfotech" />
<meta name="description" content="EPSinfotech provides best SEO Services in Jalandhar Punjab according to your budget. we offer Internet marketing , Web Designing , web development services to improve your online presence. />
<meta name="summary" content="EPSinfotech.in : Indian Website Designing Company, Seo Experts, Famous web designer Jalandhar Phagwarha Hoshiarpur, Torronto, Punjab, Melbourne, New Jersy, Mumbai, India"/ >
<meta name="abstract" content="website maker india, website designing jalandhar, punjab, india, web design work punjab india, website development company jalandhar, phagwarha, ludhiana, chandigarh, india, ecommerce softwares websites jalandhar, india, seo services jalandhar kapurthala amritsar punjab, wordpress website jalandhar punjab, php training, logo design, android apps jalandhar india" />
<meta name="classification" content="website bulider, awesome website, website development, web designers, Seo" />
<meta name="subject" content="web desiging , development , seo services , hosting , domain registration , designers in jalandhar Punjab" />
<meta name="publisher" content="epsinfotech.in" />
<meta name="designer" content="epsinfotech.in" />
<meta name="copyright" content="epsinfotech.in" />
<meta name="Identifier-URL" content="epsinfotech.in" />
<meta name="robots" content="index,follow,all" />
<meta name="revisit-after" content="4 Days" />
<meta name="distribution" content="global" />
<meta name="rating" content="general" />
<meta name="developer" content="epsinfotech.in" />
<META NAME="robots" CONTENT="index,follow">
<meta name="ICBM" content="31.331645,75.611″ />
<meta name="zipcode" content="144001″>
<meta name="HOME_URL" content="www.epsinfotech.in"/>
<meta name="COPYRIGHT" content="www.epsinfotech.in"/>
<meta name="Distribution" content="Global" />
<meta name="language" content="en" />
<meta name="DC.title" content="epsinfotech" />
<meta name="geo.region" content="IN-PB" />
<meta name="geo.placename" content="Jalandhar" />
<meta name="geo.position" content="31.331645;75.611″ />
Summary
| | |
| --- | --- |
| Meta TITLE TAG | 55 to 65 characters including space |
| DESCRIPTION META TAG | 120 to 160 characters including space |
SEO Weightage
| | |
| --- | --- |
| Title Tag | 0.40 |
| DESCRIPTION Tag | 0.10 |
| Body Content | 0.50 |