On page and off page both are very important for SEO process. Anybody can not deny the importance of on page or off page SEO process. In these days crawler gives more weight to on page activities. But if you want more visitors then you have to do off page activities.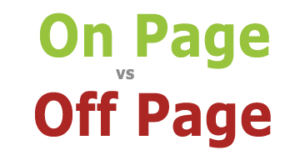 On page activities– On page activities means all activities which can be done on the website e.g. If you change H1, H2 tags, cross-linking, changing of Meta tags etc all are on page activities. On page, activities help spider to read the content of your website. Some of on page activities are as follows.
Meta tags
H1.H2.H3, H4, H5, H6 tags
Bold, Italic, underline
Cross-linking
Keyword enrichment
Quality content
Text to Code Ratio
Proper URL structure
Image optimization
Proper Alt and Title Tags
OFF page activities: Off-page activities are more important to get your website at first position on all search engines.
Off-page refers to those techniques and tricks which are used to improve the position of search results. Some important off page activities are given below-
Link building
Social media sharing
Video sharing
Article sharing
Directory submission
Word files/PPT sharing
Bookmarking
Conclusion: – In short we can say that both. On page activities and off pages activities both have equal importance equal weitage.