What is the speed test of website?
Speed test of website means loading time of website into browser. There are many tools to check the speed of website is slow ,  such as 'yslow' (by yahoo), Google inside speed test etc, pingdom tools. Generally there are many things that a web developer forgets at the time of development like combining images through css (image sprites).minimizing CSS, Java script etc.
Generally what we do to your website:
Image sprites (combining images).
Minimization of Js and CSS delivery.
Minifying html.
Loss Less compression of image.
Cache header control.
Placing java script at the bottom.
Deferred parsing of javascript.
Enabling browser cache..
Minimize http requests
Specify image dimensions.
Enable GZip compression.
Remove query string from static resource.
Inline small java script.
Avoiding bad requests.
Avoiding landing page redirects.
Please note that these all depends upon coding and hosting server ( we never grantee to pass / follow all these rules , but try our best efforts to increase speed of website )
What is the waterfall test?
Basically waterfall test means speed test of website. waterfall model is a sequential design process used in development of website in which process is seen as following steadily downwards(like a waterfall) through the phases of conception initiation ,analysis, design construction, testing production/implementation and maintenance.
Generally overview of "waterfall model" (cyclic process).
1. Required gathering and analysis.
2. System design.
3. Implementation.
4. Testing.
5. Deployment of system.
6. Maintenance ( Go to point no 1 again).
How to check speed of website
Step 1: http://tools.pingdom.com/fpt/
Step 2: enter your website here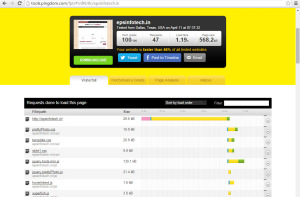 Step 3 : analysis various factors

Other Test by Google
open : https://developers.google.com/speed/pagespeed/insights/
Step 2: enter your URL